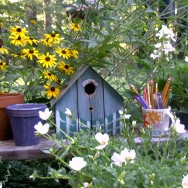 The best book for any one of us on healing may well be the one that we end up writing ourselves. One Year of Writing and Healing is offered here as a guide and companion for this process. It used to be a website. Now, it's in the process of becoming a book. (To be honest, it's always kind of wanted to be a book, and now I'm giving in to its wishes.) My hope is that as a book it can become both deeper and more coherent, offering an experience of reading and writing and healing that might complement what is already available at the original website.
I'm inviting your feedback and collaboration as it makes this transformation. The plan right now is to feature one chapter each month or so as a pdf file here at this new site, beginning in September of 2011. You are invited to download and read the pdf, and then, if you feel so moved, email me your feedback. What are your impressions of the chapter? What works well? What places in the chapter seemed like good jumping off places for your own writing? And, also, what got in your way? What didn't work well? What suggestions do you have that might make the book work better?
My hope is that this process will keep me on track to complete the transformation over the next year. When the manuscript is finished the plan is to self-publish the book, using Lulu or CreateSpace (or both), and make the book available for purchase, with all net profits from sales in its first year going to support education. I'm looking now at organizations which might become the recipient of net profits. One is the Afghan Institute of Learning, founded by Dr. Sakena Yacoobi, which works to improve the health and education of Afghan women and children. Another is CamFed, which supports education of girls in Africa.  I'll also be looking at and learning about others.
Sound like something you'd like to be a part of?
The first chapter, "Creating a Healing Place," is now available for download at CHAPTERS. If you'd like to be on an email list to receive notification when a new chapter is posted, please contact me here and simply place "monthly updates" in the subject line or body of the message. Alternatively, you can subscribe to the site in a reader.
I welcome your questions and comments—on the pdfs as well as the new site. No amount of feedback is too small. I welcome it all and will do my best to make good use of it.  Thanks!
See:  CHAPTERS