Reading and Healing Idea #3: Consider a House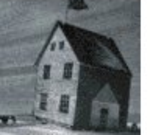 It's common, I've noticed, during a time of loss or illness, for a person to dream a house. This can be a house that has fallen into disrepair—or perhaps some of the rooms have fallen into disrepair. Or it can happen that the garden has gone neglected, become overgrown.
And sometimes it will happen that as healing occurs the image of the house will transform. A number of things can happen. New hardwood floors. New windows. New doors. A new room? A new addition? Or perhaps a new tree in the yard. An apple tree? A weeping cherry? An entire orchard? So many possibilities.
And maybe reading is one way to think about—and even catalyze—this transformation. Reading as a source of house images.
With that in mind, you can, if you like, consider a house in fiction. Any house. A house you remember. Or maybe one you discover on your bookshelf—or one you happen to stumble across.
Here's a house that I remembered and then went looking for. A house in The Shipping News by E. Annie Proulx.
In Chapter 5—a first glimpse of a house—the house the central characters will be moving into on the coast of Newfoundland and in which they'll start their new life. Quoyle, his aunt, and his two young daughters, Bunny and Sunshine. From the outside of the house: window panes missing, paint flaking, holes in the roof. And, inside:
Dust charged the air and they all were sneezing. Cold, must; canted doors on loose hinges. The stair treads concave from a thousand shuffling climbs and descents. Wallpaper poured backwards off the walls. In the attic, a featherbed leaking bird down, ticking mapped with stains. The children rushed from room to room. Even when fresh the rooms must have been mean and hopeless.
And this glimpse later. Chapter 11. The day they move in, which occurs after some work has been done:
Smooth walls and ceilings, the joint compound still showing trowel marks, the fresh window sills, price stickers on the smudgy window glass. A smell of wood. Mattresses leaned against a wall.
More happens in the novel. A lot more. But these are two brief glimpses of the house. Part of the transformation that unfolds.
______________________________________________
The picture above is taken from the cover of The Shipping News and is part of an etching by David Blackwood, a Newfoundland artist.
See also a New York Times feature on Ms. Proulx from 1994, just after she won the Pulitzer Prize for The Shipping News. It offers, among other things, a glimpse of her own house in Vermont.
Her house, high on a hill, is three stories, made of unpainted clapboard weathered to gray. Ms. Proulx built much of it herself, and it is tall, strong and unadorned, like her. Wearing blue jeans and a dark green pullover, she opened the door, and her gaze from behind wire-rimmed glasses was at first intimidating. Don't ask foolish questions, it said.

But inside, her house was another world, all cozy and welcoming, full of books and rocks and colors. Ms. Proulx had painted a flock of geese over the kitchen table, a surrealistic tree draped with fish on the cupboard, purple grapes above the tub in the bathroom.