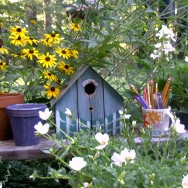 Here is where you can find chapters of my draft, One Year of Writing and Healing, as they become available.  I'm beginning with Chapter One in September of 2011.  My original plan was to post one chapter per month.  That pace has slowed some but I do plan to continue to post chapters as I finish them. Feel free to download a chapter, read, write a little, and share with others as you wish (though I do ask that you respect copyright and acknowledge the source when sharing).
I'm interested in any feedback you'd be willing to offer–first impressions, second impressions, writing pieces catalyzed by the chapter, thoughts, suggestions, you get the idea.  My plan is to use feedback to grow and strengthen the manuscript.
The best way to contact me is here.  You can also navigate to contact using the top menu.  Messages sent here will come right to my email box.
If you place "monthly updates" in the subject line or body of the message when you contact me, I'd be happy to put you on a mailing list for a monthly update when a new chapter is posted. (You don't need to offer feedback to be placed on the mailing list. Just let me know that you're interested in the monthly updates.)
CHAPTERS POSTED:
SEPTEMBER, 2011
Chapter One: Creating Healing Places
OCTOBER
NOVEMBER
DECEMBER
Chapter 4: Gathering Provisions
FEBRUARY, 2012
Chapter 5: Listening for the Voice of the Body
JUNE 2012
Chapter 6: Making a Place for Grief
JULY 2012
Chapter 7: Figuring Out the Good Part
SEPTEMBER 2012: Update
The book has not come to a stop, nor has the website, but I have to be honest–it's in suspension for the time-being while I attend to other things.  I will restart when I can.  Thanks for visiting–and for all encouragement.  And I'm wishing you well with all projects.
I'm posting in PDF format.  Please let me know if you have any difficulties accessing any documents.  Thanks.
You can learn more about my plan for the book here