Writing About Rain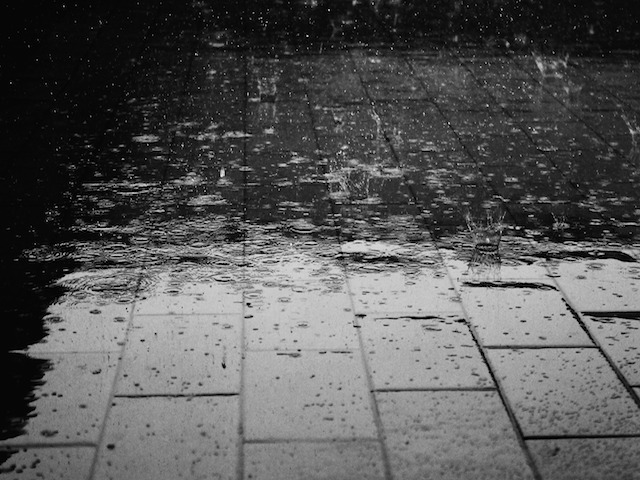 Twice recently I've come across this idea of writing about rain. The first is in a chapter from Writing for Wellbeing called "Writing about the Seasons." Here, Patricia McAdoo, a writer and clinical psychologist, introduces a writing prompt with an African saying: "It is the rainy season that gives wealth."
She writes:
Living in what is often a rain-sodden country, I can testify that you either have to see the merits of the rain or else just moan about it the way a lot of people do. It is tough when it rains incessantly especially during the summer or when a big outdoor event is planned, but rain gives Ireland a very fertile soil, making it a great agricultural country. There are some benefits like the saying above states.

What have been the benefits for you during what might be called the rainy periods of your life when the sun didn't shine every day? Sometimes going through a bleak time can make us more resourceful, more self reliant.

What was your rainy season?

What wealth did it bring?"
I love this idea of finding wealth in unexpected places—and this connection between uncovering resources and becoming more resourceful. Using the rainy season. Finding unexpected treasure in it.
I also love how evocative the visual images and sound of rain can be.
Here is Ray Bradbury writing about rain in his story, "All Summer in a Day," set on the planet Venus:
It had been raining for seven years; thousands upon thousands of days compounded and filled from one end to the other with rain, with the drum and gush of water, with the sweet crystal fall of showers and the concussion of storms so heavy they were tidal waves come over the islands. A thousand forests had been crushed under the rain and grown up a thousand times to be crushed again.
The drum and gush of water.
The sweet crystal fall of showers.
The words themselves seem like treasure—as if he's seeing and hearing rain differently—uncovering its wealth.
Try writing about rain?
Listen to some rain first?

---
Patricia McAdoo's book can be found here. It's a lovely, rich, and useful book and has this very nice quote in the introduction:
"When I read that first book on therapeutic writing, the separate worlds of writing and psychology collided with full force. I discovered that it was all about the process of writing not the product. Because I liked to write fiction, writing for me was about endlessly polishing and editing everything I wrote. Writing for wellbeing is not about polishing and perfecting writing. It's about expressing things through writing about ourselves, our lives. "
Her website is here and her blog here.
Ray Bradbury's story, "All Summer in a Day" can be found here.
Rain photo from Pixabay