Instructions by Neil Gaiman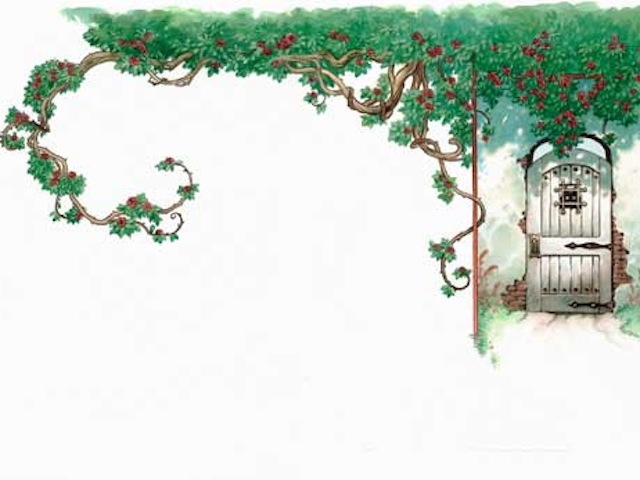 I've for a long time been interested in poems and excerpts that can invite writing and I've recently come across this poem by Neil Gaiman that seems especially well suited for this. The poem is a set of instructions for "what to do if you find yourself inside a fairy tale." It begins:
Touch the wooden gate in the wall you never

saw before.

Say "please" before you open the latch,

go through,

walk down the path.
I like the way the poem begins with such direct instructions—we're in this new place—and already guided in how to interact with it. These are the gestures in fairy tales that will lead to good things. Saying please. Going through the gate. Moving forward. He continues:
Walk through the house. Take nothing. Eat

nothing.

However, if any creature tells you that it hungers,

feed it.

If it tells you that it is dirty,

clean it.

If it cries to you that it hurts,

if you can,

ease its pain.
Yes. This is the way it is in fairy tales. This is what will work.
The adventure goes on for many stanzas:
A glimpse of Winter's realm
Permission to turn back
An old woman beneath a twisted oak
A river—and a ferryman.
(and a nice bit of humor: "The answer to his question is this: If he hands the oar to his passenger, he will be free to leave the boat. Only tell him this from a safe distance.")
More happens:
An encounter with giants, witches, dragons.
An encounter with a sister
The way back
A wise eagle
A silver fish
A gray wolf
Arriving home
The poem is lovely in itself—and potentially wise. It also seems like the kind of poem that could open itself to become a kind of interactive poem—and I've been playing with this idea.
I'm also playing with the idea of embedding forms into the site as a way to lower barriers to writing.
The way I've set this up—a kind of experiment—is simply to link writing prompts to forms with the notion that any writing done on the form will not be used in any way for sharing or publication (which can become, so often, a kind of barrier in itself). Please note that it will also not be linked in any way to one's email address or identifying information. The writing is primarily for the sake of the writing itself—and goes into a vault—a vault which might also and eventually become a source of information and research—so that I can learn better what kinds of poems and writing prompts are the most inviting and lead to useful and rich writing.
In the landmark study done by Penebaker, college students wrote for twenty minutes at a time, anonymously, and were given no feedback on their writing—it simply went into a vault for research. And still it was of benefit. The act of writing was beneficial. That's my intention in linking these writing prompts to forms—to lower a barrier to writing—and create a safe space for writing which could be of benefit. (You of course are also free to use the writing prompts without writing in the forms. As I often say to my students in the morning when I provide a catalyst for writing, please use as you wish.)
The writing prompts and forms based on Neil Gaiman's "Instructions" are here.
If you have thoughts or suggestions about this experiment, I'd love to hear from you here.
---
See also:
The full text of Neil Gaiman's "Instructions."
Neil Gaiman reading "Instructions"
An article on the Pennebaker study from this site.
An article on the potential benefits of fiction writing from this site.
A writing prompt on "entering the tale" from this site.
The image is from Neil Gaiman's picture book, "Instructions," illustrated by Charles Vess