All Shall be Well?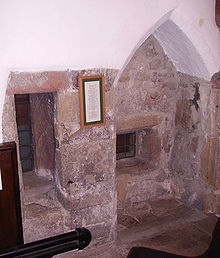 For some reason a couple weeks ago, I found myself looking for the quote by Julian of Norwich about all being well.
I found this:
All shall be well,

and all shall be well,

and all manner of thing shall be well
which T.S. Eliot then included in the fourth quartet of his Four Quartets:
And all shall be well and
All manner of thing shall be well
And I also found, unexpectedly, this song, which I quite like, by a young man by the name of Gabe Dixon.
The song is called, "All Will Be Well."

____________________________________________________________________
The photo at the top of this post is from Wikipedia.  Julian of Norwich was a Christian mystic in the fourteenth century who is described as an anchoress.  I had to look up the term and discovered it's the female form of the term anchorite and refers to a kind of Christian hermit who devotes their life to prayer.  Anchoresses lived in simple cells or anchorholds built against the walls of a church. The photo is of one such cell or anchorhold.
She lived during a time of plagues. It's possible (history about her is sketchy) that she could have become an anchoress after losing her husband and/or children. Or it's speculated she may have become an anchoress to become quarantined.  In any case, it does place her famous quote in an interesting context.
Plagues were spreading and encroaching all around her and she was writing that all shall be well.  Denial?  Insanity?  Radical confidence?