November Angels?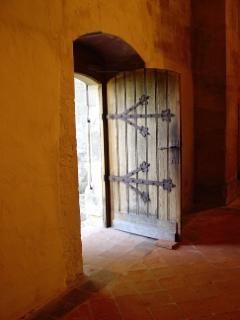 One thing leads to another.  Three years ago I wrote about the poem, "My November Guest," by Robert Frost.  This morning I found myself looking at the poem again.  It's a poem in which the speaker becomes aware of sorrow as a guest and begins to understand how deeply sorrow appreciates "the desolate, deserted trees/ the faded earth, the heavy sky."
Since I first came across Frost's poem I've been struck by his notion: feelings as simply guests.  Nothing more or less.  They come and they go.  A particular feeling can be absent for days or weeks or even months and then one afternoon it can simply show up, unexpectedly.
The same notion is there in Paul Simon's lyrics: "Hello darkness, my old friend."
And it's there in Rumi's poem:
This being human is a guest house.
Every morning a new arrival.

A joy, a depression, a meanness,
some momentary awareness comes
as an unexpected visitor.
Sorrow as unexpected visitor.  Sorrow as stranger?
This morning I found myself doing a simple search on hospitality toward strangers.  I found this, from Hebrews: "Do not forget to entertain strangers, for by so doing some people have entertained angels without knowing it."
And then I found this: a poem, "November Angels" by Jane Hirshfield.
An interesting juxtaposition, I think.  Sorrow as stranger.  Sorrow as angel?  And what is an angel really?  Or what could it be?
It's one of those things that a person could write about.
Note: Lately, I've been placing my links at the bottom of my posts instead of in the middle because of something I read this past summer about the process of reading in Nicholas Carr's book, The Shallows.  He makes a good case for the way links in the middle of things disrupt a process of deep reading and engagement and concentration.  One of these days I'll write a bit about that here.
In any case, the links for this post:
My November Guest at A Healing Library
The Sound of Silence lyrics by Paul Simon
Rumi's poem, The Guest House
See also: from My November Angels