Looking at the Language of Sickness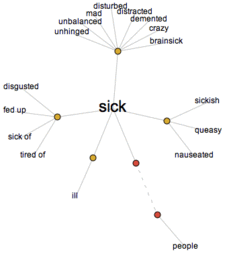 When I went back to Visual Thesaurus and entered the word illness I didn't get much in the way of synonyms. But then I put in the word sick—and here's what I got: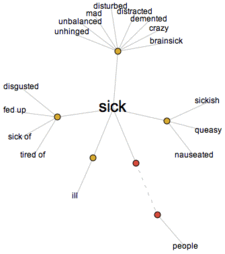 Unlike the graphic of healing which I found appealing—and filled with a sense of possibility—this graphic took me aback. Especially that cluster of words around the word disgusted. And then that cluster of words around the word demented. This graphic got me thinking, not for the first time—but in a new way—about all the meanings and connotations that have gotten attached, at least in some instances, to sickness and illness. Maybe some of these words fit for some people. Maybe some of them don't.
I suspect a person could write an entire book about this cluster of words that radiates from this single word: sick. Maybe one of you will—or maybe one of you will write a poem about it or a paragraph or a something. Or maybe you will revise this graphic–or construct an entirely new graphic that contains entirely new words and new connections.